Shop Trends
Spring Summer 2019
Trend We Love: Denim
Denim is a staple in everyone's wardrobe so we have put together a guide on the top 10 ways to style denim for Fall.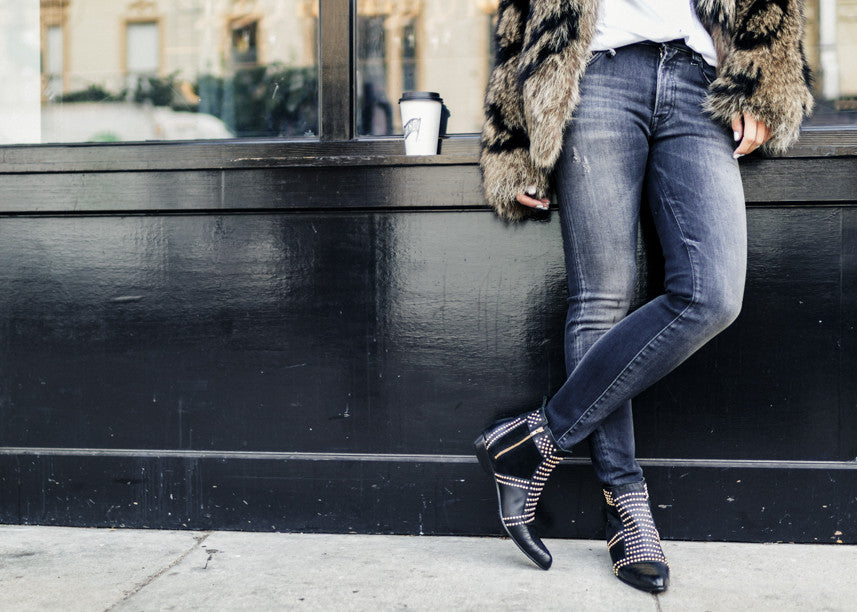 DENIM SHIRT - We love the elaborate beading on No. 21's mini-pocket, it is such an unexpected detail for a denim shirt.  Paired with a pencil skirt it shows how denim can take on a suprisingly dressy look.
SKINNY JEANS- Add contrast to classic black skinnies with this Isabel Marant white blouse for an easy and chic look.
DENIM JACKET - We love the versatility of a jean jacket, especially when worn to dress down a LBD. We have paired it with booties to give it a more tomboy look.
DENIM SKIRT - Denim skirts have made a big comeback this season!  The distressing of this Henry & Belle denim pencil skirt is a cool contrast to heels and clutch.
MOM-JEANS - Mom-jeans take on a cool edge this season.  Don't be mistaken for a soccer-mom by wearing them with equally cool plaid and nude heels.
DENIM-ON-DENIM - Just like wearing blue and black together, wearing multiple denim pieces is also now equally acceptable.  Tip - a fool proof way is to wear contrasting blues.
DENIM JUMPER - We love how the bodice's contrasting fabric makes this denim jumper by Self Portrait look like you're wearing fancy overalls!  A sophisticated strappy heel elevates this look to cocktail attire.
FLARES - Flared denim jeans are a must this season! Pair them with this boho flowy top by Isabel Marant and Janessa Leone Fedora to amp up the 70s vibe.
9. DENIM ACCENTS - We love mixing denim with retro prints like these See by Chloe pieces! Or layered below a classic blazer like this Veronica Beard jacket with a removable denim dickey!
If you would like to receive the latest trends right to your inbox, please sign up to receive our newsletter